In today's society men are becoming more creative with their hair styles.
While men can easily go to a professional hair stylist, men now have the capabilities of achieving the same (if not better) results that they desire at home. When it comes to choosing specific hair gels, men can look at a variety of factors:
Factors in Choosing the Right Hair Gel for You
First and foremost is the specific hair type. Men who have thin hair will most likely need a gel that is suitable and geared towards men with that hair. The same applies to men with long hair.
The second factor is how active the man is. There are hair gels better to hold the general hairstyle that men do on a casual day. For men who are active in actions such as sports can still style their hair in a certain way.
However, they will need gels that can hold their styles despite perspiration and/or continuous movement.
Today we will cover 11 amazing hair gels suitable for men who have a multitude of hair types and hair-style desires.
At the end of this article you will see a variety of hair gels that you can consider your go-to option, or you can even choose a multitude of gels to switch up your hairstyles at your discretion.
The Best Hair Gels for Men​
Paul Mitchell Men Mitch Steady Grip Firm Hold/Natural Shine Gel (The daily hair gel for men)
As a man it is pretty understandable to live by the old mantra KISS (Keep It Simple Stupid) in every facet of life possible.
This Paul Mitchell hair gel is your everyday styling partner. No matter if you have short/long, thin/thick hair, you can use this as your every day casual hair gel to style your hair.
In addition to the latter, the gel also adds a natural shine to your hair that glistens in any light.
Style Sexy Hair Hard Up Gel (Hair gel that upholds strong hairstyles)
Imagine all of the times when you have styled your hair and for some reason it just does not stay up throughout the entire day. Annoying right?
The Style Sexy Hair Hard Up Gel lives up to its name greatly! This hair gel offers supreme control in addition to lifting and holding definition to your hair all day around.
There will be no need to worry about the sun sweating out the gel on you anymore.
Dove Men+Care Control Gel (Men who desire the "wet look" hairstyles)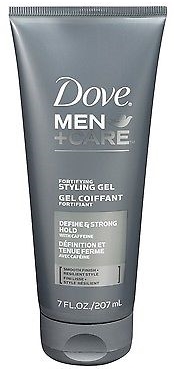 Dove is a well-known and reputable men's hair care brand that many depend upon every day.
This styling gel in particular gives men a slick and smooth wet hair style finish that shines with every application. The Dove Men+Care styling gel is also alcohol free, which typically is associated with itching reactions.
If you already use Dove shampoo, these two products will pair well together.
Clubman Styling Gel By Ed Pinaud for Men (Men who have normal type hair)
When men see this styling gel, the question that comes to their mind is "well, what defines a normal hair?"
In this situation, normal hair is classified as hair that is not thin or thick, it's average. Normal hair is pretty susceptible to hairstyles, which is what this Clubman gel offers to men.
All you need is a small amount (about a quarter size amount) and you easily distribute the gel as you are styling it with your comb.
AXE Messy Look Hair Gel (Messy, yet stylish hair styles)
Men who have an eccentric style in today's society tend to do unconventional hairstyles that fit their personalities (and it looks great).
AXE has become a leading brand in men's hair styling products over the past few years. The "messy look" style may seem a little "off" yet it's very well maintained and has a flexible hold as well.
In addition to styling your hair, AXE goes a step further and gives men great smelling hair in the same gel simultaneous.
American Crew Men's Firm Hold Gel Tube (Men seeking firm hair styles)
Some men tend to have a simple approach to styling their hair. Something that is quick, easy, yet aesthetically pleasing and benefits men greatly.
American Crew Men's firm Hold Gel gets the job done without drying your hair out or causing your hair to flake at all.
With its smooth gesture, this gel holds up the hair stunningly while providing a great shine and easily able to distribute throughout your hair.
Alterna Bamboo Men Power Hold Max Strength Gel for Men (For strong hair and healthy scalps)
As a man, if you already know that you have strong and healthy hair then you are already in a great position.
The Alterna Bamboo Men Power Hold Max Strength is beneficial to men who are looking to enhance their hair.
With eco-certified bamboo and ultra nourishing hemp seed oil, not only will you be able to style your hair as you desire, but you will also continue maintaining your healthy/strong hair simultaneously.
Aubrey Organics: Men's Stock Ginseng Biotin Hair Gel (The organic hair gel)
Being conscious to the natural ingredients that are beneficial to your overall hair maintenance and the environment is a great mindset to have.
Aubrey Organics have created this hairstyling gel biotin, which gives your hair a strong body and shine.
Other natural ingredients in this hair gel includes seed extract tocopheryl acetate (vitamin E) and glycerin cellulose gum hydrolyzed sweet almond protein panthenol acacia sengal (organic arabic).
You do not have to worry about any short or long term damaging impact to your hair because of the ingredients.
Suave Professionals Men's Styling Gel, Firm Hold (Hair gel for the professional man)
Businessmen understand that there are specific hairstyles that are suitable for professional environments.
Suave Professionals Men's Styling Gel allows men to exude confident hairstyles without seeming too casual.
This hair gel will give you a light and smooth hairstyle with every application.
Aveda Pure Formance Firm Hold Gel for Men (Lightweight styling hair gel)
Many hair gels tend to feel as if they are heavy in regards to application and hairstyles.
Aveda Pure Formance gives men the feeling of not having a heavy hair no matter what design it is.
L'Oreal Paris Studio Line Melting Gel (Men who desire contemporary hairstyles)
This hair gel by L'Oreal will give you a light and smooth hairstyle with every application.
As you apply this gel to your specific hairstyle it will give you a full definition and shine without hardening and leaving an excess amount throughout the day.
Conclusion
Throughout this article we have covered hair gels that are beneficial for virtually every man and hairstyle possible.
These are hair-style products that have not only been recommended by every man, but also professional hairstylists as well.
Whether you decide to choose one or multiple, the choice yours and none of them are a bad option for you.