In human kind, we have come to terms that there are distinctive features that make a man… well, a man!
Over the years and decades masculinity has been defined to include men's facial hair. It is basic anatomy that men grow facial hair predominantly therefore that is what also defines him.
There are a variety of styles in which a man can choose to have his facial hair look. The mustache. The beard. The full goatee. When you are in the market for shaving products, it is important that you take into consideration what style you are looking for.
But whether you're looking to just trim your beard or go completely shaven, you need a good razor. Typical store bought razors simply won't do the trick. You need a Double Edge Razor.
Why Men Should Use Double Edge Razor Blade
​When a lot of men look at a double edge razor, they get a bit frightened. While these blades are definitely sharp, with proper technique you won't have any issues. In fact, you'll wonder why it took you so long to use these.
Moreover, using these double edge razors will leave you with a smoother, more comfortable shave. Advertisements for shaving companies tell you that you need a razor with multiple blades. They tell you that more blades leads to a closer shave—this isn't true. In fact, more blades will only lead to more irritation. A high-quality, sharp double edge razor will get a closer shave than any cheap store bought razor.
There are also many other reasons to use these razors. For one, using these blades will save you money. These blades require an initial investment, but instead of spending $10-20 every month on razor blades, you'll only need one for a long time. Just make sure to keep it sharp and clean. They also look really cool, and will make your bathroom look more manly.
Men have a plethora of options to choose from that you will see on this list. Each has its unique design and purpose that ultimately gives you the style results you are looking for. With the variety of razors, accessories, and shaving gels/creams, it is vital you also take your skin type into consideration.
"...There are a variety of styles in which a man can choose to have his facial hair look. The mustache. The beard. The full goatee..."
Shaving is a delicate process and every element matters (especially to those who have sensitive skin). So without further or due, we invite you to read through this list at your own pace (no rush at all).
We hope that you find a new product (or combination) that will be fitting for your personality and facial hair desires.
SHAVE ESSENTIALS FOR MEN
Disposable Razors - Double Edge Razor Blades
(2-in-1 blade/trimmer razor) Dorco Pace 6 Plus-Six Blade Razor System with Trimmer
Disposable razors are pretty great to use for men who are not looking to shave too frequently.
This Dorco Pace 6 Plus is actually a blade and trimmer combo. In addition to meeting your basic needs of a shave, if you are looking to be a little more detailed with your facial style you can do it all with just one razor.
The lubrication strip is composed of a lavender soothe, vitamin E, and aloe, which all helps with moisturizing your skin during each shave.
(The disposable razor for sensitive skin) Gillette Fusion Proglide Men's Razor With Flexball Handle Technology
When you say the name "Gillette" 9 times out of 10, men will know exactly what you are talking about.
Gillette is one of the oldest and most dependable shaving product brands in existence.
With extremely thin blades and a FlexBall handle, precision is one of the main factors that makes this razor arguably one of the best disposable razors on the market.
Electric Razors
(Men who choose both wet and dry shaving experiences) Panasonic ES-LV61-A Arc5 Men's Electric Razor
Panasonic is another amazing and trusted brand men have come to fall in love without hesitation.
For the most part, men tend to use a shaving cream when it comes to regular applications, however, there are dry shaving practices that people do not talk about as much as they should.
This electric razor is suitable for both applications, which gives you the ability to switch at your discretion without having to switch razors.
(Take care of all your shaving needs in one) Panasonic Milano All-in-One Trimmer
Panasonic Milano All-in-One Trimmer is perfect for taking care of your mustache and beard needs.
As a cordless electric razor you can reach all the areas that you need to without tripping over yourself and making costly mistakes.
As an award-winning trimmer, this is capable of getting the job done quickly and efficiently.
Another major benefit of this trimmer is its 19 precision settings that allows you to fine tune exactly how much hair you want to take off.
(The electrical razor for your traveling needs) Braun Series 7 790cc 4 Electric Foil Shaver
If you are a man that travels frequently for personal reasons or for business, then you will definitely find this Braun Electric Foil Shaver worth your money.
To start off with its most beloved feature, the clean and charge station is an element that men consistently rave about on a daily basis. The clean and charge station lubricates, charges, and cleans the razor with an alcohol based system.
Another factor that makes this electric razor a "one-of-a-kind" is the OptiFoil, which allows you to style/shave your facial hair at a 0.0zmm closeness. The Active Lift trimmer is great for those problem areas.
Shaving Accessories
Classic Samurai CS-102 Stainless Steel Professional Barber Straight Edge Razor
If you have a little bit more experience when it comes to shaving and precision, then you know what this is.
Classic Samurai has created an amazing straight edge razor that men can use at home at their discretion.
For men that would love to bring the barbershop to their own hands, this is a must item for you to have.
With its surgical grade stainless steel, smooth handle, and replaceable blades (once they become dull or rust) you will clean cut after every shaving session.
(The perfect clean up station) Harry D Koenig & Co 4 Piece Shave Set In Silver for Men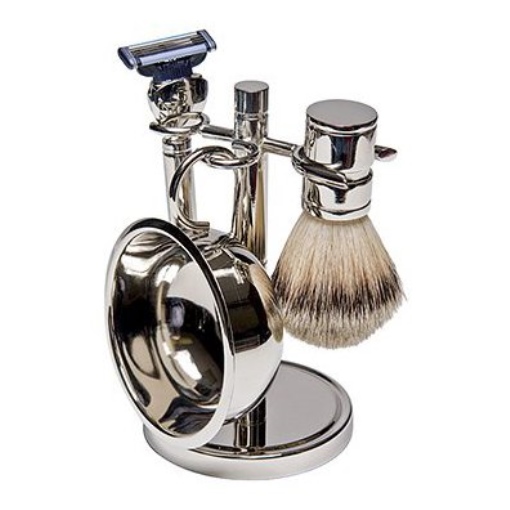 After every shave no matter how much facial hair you have, there is typically some form of cleanup that you will have to do.
Most importantly you want to make sure that you get rid of all the extra excess and loose hair on your face. With the soft bristle brush, you will feel as if clouds are just running across your face.
In addition to the brush is a razor stand and bowl that accompanies the entire set perfectly.
Gels and Creams
(Shaving soap for the "manly man")
Shaving soap is one of the most important factors when it comes to shaving. It should go without saying (excluding those whom are new to this) gels and creams are the key to this entire process.
Men's Soap Company has developed an all-natural cream with delightful Himalaya.
This soap delivers a thick lather that moisturizes the skin deeply in addition to leaving your face silky smooth after every shave.
(The barbershop shaving cream) Softsheen Carson Magic Razorless Smooth Shave Cream for Men
When it comes to shaving one common situation that men tend to experience is razor bumps.
Now razor bumps can occur for a variety of reasons (unsharpened razors, irritable skin, and/or reactions to creams). Softsheen Carson Magic cream focuses on reducing razor bumps.
While this cream is more for your head, you can also use if for the complete shaving process if you so desire.
With a light fresh scent, you can expect a similar feeling as if you received a professional shave from the barbershop.
(Men with sensitive skin) NIVEA MEN Sensitive Shaving Gel with Skin Guard
NIVEA is a well known brand that many men have trusted and depended on for a few years now.
When you are looking to get very close to your face for a specific style or a completely clean shaving experience, one thing you should desire is comfortability.
This shaving gel is highly beneficial for men that not only want the close-up shave, but also have sensitive skin as well. The gel will also protect your skin against irritation (and no one cares to deal with those on any day).
(The icing on the cake for your shave) Neutrogena Men's Razor Defense Post Shave Lotion
When it comes to having a great shave there is nothing better than being able to capitalize on making sure your skin is baby soft smooth.
Neutrogena is an absolutely amazing brand you can depend upon without question. This post shave lotion (which comes in a pack of 3) is dye-free and oil free.
Excluding those two ingredients, you will be able to realize the moisture that your skin will retain after every shave (especially if you have dry skin).
Being able to keep your skin healthy will essentially be an asset when it comes to growing your facial hair even better (if you so desire).
Lather & Wood Shaving Co. Pre-Shave Oil (Sandalwood)

With every shave it is important to realize that there are pre-shave and post-shave options that you have available.
This oil assists in reducing the irritation that you could experience pre (and post) shave. The oil is also comprised of 7 all natural oils that all work together in unison.
With the sandalwood aroma, you can be sure to have a bold scent that others will compliment you on.
If you want to be a little fancy, you can combine this product with the Man's Soap Company cream we touched on earlier for the complete Sandalwood scent shave.
Conclusion
Now that we are at the end of the road what do you think? This list is comprised of tried and true products that men from different walks of life have accepted into their bathroom cabinets (and travel bags).
Whether you have long facial hair or short facial hair, an intricate style or simplistic, this list is capable of meeting your needs and desires. All of the options available are capable of being kept in your bathroom at home or on the go as you travel.
With these affordable options at your discretion… the only thing that you have to discuss with yourself is when will you be purchasing from this list?