There are many ways to shave. However, the old-school way is still the best. It is enjoyable; some would even say it is therapeutic. The feeling of passing the razor over your cheeks and chin is fulfilling, and the use of old-school shaving equipments such as razors and shaving bowls goes a long way in reinforcing the feeling.
You may think that you do not need a shaving bowl, but you do! The ideal shaving bowl will enable you get the perfect lather and ensure squeaky-clean passes with each stroke of the razor.
Like your shaving razor, your shaving bowl should be flawless. Here is a list of some of the best shaving bowls in 2020.
AKStore Stainless Steel Shaving Bowl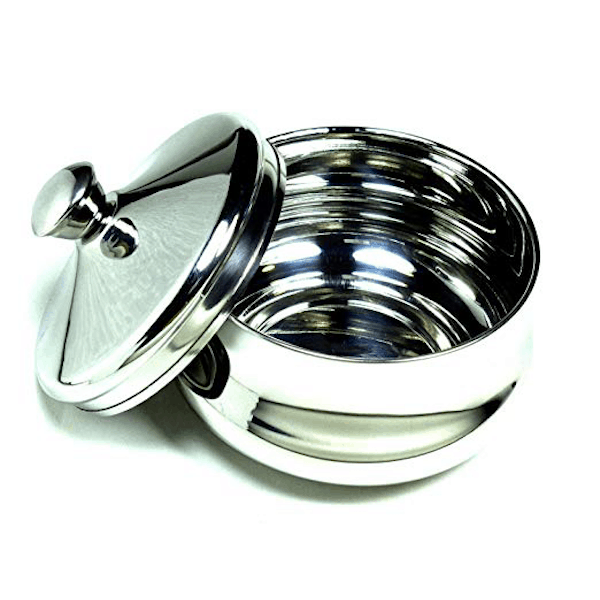 Schone Stainless Steel Shaving Bowl
Charmman Stainless Steel Shaving Bowl
      1. Our Pick: AKStore Stainless Steel Shaving Bowl
1. Our Pick: AKStore Stainless Steel Shaving Bowl
DETAILS
You will understand why the AKStore stainless steel shaving bowl is our personal favorite when you see it. Here is a preview.
Key Features
Made with Stainless Steel
This shaving bowl is made using high-grade stainless steel. This ensures that it never rusts, cracks, or bends – it will retain its sleek and smooth appearance for years to come. The stainless steel is also smooth at the edges and polished to prevent your brush's hairs from getting entangled when shaving.  
The stainless steel is also insulated all-round to ensure that your shaving water and lather stay warm for a smooth and enjoyable shaving experience.
No one is accusing you of being clumsy, but you don't have to worry about knocking this shaving bowl over when going about your business. Its bottom features anti-skid design that ensures that it sits firmly on whatever surface you place it.
This shaving bowl is neither too big nor too small – it is just perfect. It is big enough to hold just enough water and lather as well as your shaving brush. It is also small enough not to take up too much space on your vanity or sink. It is also small and light enough to carry around in case the need arises.
Everything about this bowl looks sleek and elegant. The stainless steel used is highly refined and polished so that it looks shiny. It also blends in well with virtually all colors. It goes a long way in making shaving a serene experience.
2. Premium Pick: Schone Stainless Steel Shaving Bowl
               2. Premium Pick: Schone Stainless Steel Shaving Bowl
DETAILS
Schone is one of the most reputable brands for men's shaving products. The Schone stainless steel shaving bowl delivers on the brand's trademark when it comes to quality, and it does so at an affordable price.
Key Features
Stainless Steel Construction
This shaving bowl will look and feel as good as new for years thanks to its stainless-steel body. The steel is strong enough to withstand all impacts without cracking or even scratching. It also doesn't fade or rust.  
The convenient thing about this shaving bowl is that it comes with a lid that you can fasten securely. The lid comes in handy in case you want to preserve and re-use special soap and lather to avoid wastage. It also helps to keep the bowl clean when it is not in use.
Elegant, Sleek Appearance
This bowl will make an attractive addition to your bathroom thanks to its sleek, shiny, and elegant appearance as the stainless steel body is polished and curved in perfect contours.
Measuring at 3.5'' by 4'' by 2'', this shaving bowl is just the right size. It is big enough to hold your soap, shaving brush, and perhaps one more shaving accessory. It is also small enough to carry around and use in limited spaces.
3. Best Value: Charmman Stainless Steel Shaving Bowl
                     3. Best Value: Charmman Stainless Steel Shaving Bowl
DETAILS
The Charmman stainless steel shaving bowl is as traditional as they come. The German manufacturer is popular for its flawless craftsmanship, and every gentleman with a knack for perfection will attest to the quality of their men's products.
Key Features
Stainless Steel Construction
This shaving bowl is made from high-grade 304-stainless steel, one of the hardest variants of the metal. It guarantees resilience against all sorts of impacts – it won't rust, crack, break, or bend no matter how hard it falls.  
This bowl is made of three layers. The inner and outer layers are made of stainless steel while the middle layer is a vacuum. This vacuum acts as an insulator that ensures that your shaving soap and later stay warm throughout your shaving session.  
Two features work together to ensure that this shaving bowl remains firmly set on the surface at all times. For starters, its base is solid and dense to prevent it from tipping accidentally no matter how aggressive you are with the brush. The bottom is also fitted with an anti-skid surface that holds it firmly on all surfaces, especially the smooth ones.
This shaving bowl not only looks elegant but also vintage – as do many other men's shaving products from Charmman. The stainless steel body is polished to give it a sleek and shiny appearance. It is also shaped perfectly with flawless contours, and the size gives it an overall compact appearance. It will certainly look great sitting on your vanity!
DETAILS
Don't worry; this is not really a mug. It isn't a bowl either. It looks like a bowl within a bowl. Everything about the Q Shave scuttle mug is designed for convenience and efficiency. It is one of the most unique shaving bowls in the market.
Key Features
This unique design concept is not only aesthetic but also functional. The bottom bowl holds hot water while the lather forms on the top bowl. This allows you to make a thick, flawless cream of lather for a smoother and more enjoyable shave.
Unlike most other shaving bowls on this list, the Q Shave is made of ceramic instead of stainless steel. The ceramic is not as hard or resilient as stainless steel, but it has its advantages. For starters, it looks more elegant and classier than stainless steel. It also has superb heat retention, so your warm water and lather will retain its warmth for as long as you take to shave.
This shaving scuttle mug is exceptional from all others on this list in that it is hand-made. Each item is individually made and hence unique. The craftsmen who make these bowls are exceptionally good at their work, and each bowl is flawless. This is as classic and as vintage as shaving bowls come.
The Q Shave shaving scuttle is both food-safe and waterproof. These features make it safe to use with a microwave and clean in the dishwasher. As such, cleaning and maintenance are easy.   
The wide mouth on this shaving scuttle is convenient in many ways. It makes it easy and quick to whip up your cream and lather without making a mess all over the place. The handles also make it easy to safely handle the bowl without fear of dropping it.
5. Henry Cavendish Gentleman's Ceramic Shaving Bowl
5. Henry Cavendish Gentleman's Ceramic Shaving Bowl
DETAILS
Here is another ceramic shaving bowl. This one is from Henry Cavendish and it is just as elegant and convenient as the others. It also goes an extra mile in terms of looks and functionality.
Key Features
This shaving scuttle mug from Henry Cavendish is made using fine ceramic. The ceramic is reinforced for extra durability. It also performs well on heat retention; perhaps as well as the stainless steel bowls with insulators. As such, your lather will remain warm and enjoyable throughout your shave.
Sleek and Elegant Appearance
This shaving scuttle mugs looks good enough to be presented as a special gift for a special occasion. The ceramic is matte black, smooth, and sleek, and it feels good to the touch as it looks. The Henry Cavendish logo embedded on the side also goes a step further to add an elegant and premium touch to the overall appeal.
There is a knob-style handle at the side of this ceramic shaving scuttle for a firm grip. The handle ensures that the bowl doesn't slip and fall as it would be a regrettable loss. However, the handle is just as smooth as the rest of the surface and as such should be handled with care.  
This shaving bowl is not too big, but it is large enough to hold 2 to 3 pucks, a shaving brush, and perhaps one more shaving accessory. The mouth is also wide and offers plenty of space to mix lather without spilling.
You can put puck in this shaving bowl and heat it in the microwave without any worry as it is waterproof and food-safe. It is also safe to wash in the dishwasher.
Shaving Bowl Buying Guide
You will be spoilt for choice when shopping for a shaving bowl. There are numerous brands available, and each purports to be better than the rest. However, most offer the most basic convenience and only a few truly stand out.
So, how do you pick out a shaving bowl as good as those on this list? Simple: look out for the following factors:
The material used to make the ceramic bowl should be the first thing to consider. Material determines durability and visual appeal. For durability go for a shaving bowl made of stainless steel as it doesn't rust, crack, or bend. Stainless steel shaving bowls cal also look good depending on the make and brand. However, stainless steel bowls coated with chrome eventually lose their good looks as the chrome fades away.
Ceramic is also a popular material in shaving bowls. It is not as durable as steel but tends to look better as it is easy to design. To this end, some of the most elegant shaving bowls are made using ceramic.
Shaving bowls come in a variety of sizes. There are those that are small enough that you can travel with while others are large enough to wash your face in.
The ideal shaving bowl should neither be too large nor too small. It should be just large enough to hold the ideal amount of lather. Shaving bowls that are too large are cumbersome to work with and tend to eat up a lot of space in the bathroom. Those that are too small, on the other hand, make shaving a hassle.
There are various reasons why you should shave using warm lather. Among these reasons is that warm lather feels soft to the skin and makes shaving enjoyable. Some people like taking their time shaving (as should be), and sometimes the lather can cool off before you are done. If you experience this regularly, then you should consider buying a shaving bowl with insulation capabilities.
Some of the shaving bowls made using stainless steel are insulated, but most are not. Ceramic shaving bowls are not insulated but they have good heat retention capabilities.
Shaving bowls range from the dirt-cheap to the expensive and everything in between. At the end of the day the price you are willing to pay depends on your financial capabilities.
However, you should know that you get what you pay for – expensive bowls usually offer exceptional quality while cheap bowls are basically designed just to hold your lather (and they don't usually do it for long as they are not durable). Nevertheless, some shaving bowls are simply overpriced owing to their brands. As such, be prudent when making your pick and ensure that the bow you settle on has all the features you are looking for and is not simply overhyped.
Frequently Asked Questions
Q: Do I really need a shaving bowl?
A: No, you don't really need a shaving bowl. However, your shaving experience would improve greatly if you had one. A shaving bowl enables you to make the perfect lather for a flawless shaving experience. This helps overcome problems associated with poor lather, including accidental cuts and scrapes that can lead to serious infections and spoil your smooth and sleek appearance.
Q: What are the different types of shaving bowls?
A: shaving bowls come in a variety of sizes, shapes, and designs. However, they can all be categorized by their materials. The five common materials used to make shaving bowls are wood, plastic, metal, ceramic, and stainless steel. Each material has its benefits and shortcomings. Each material also gives the shaving bowl a different design and appearance. For instance, plastic and ceramic are easy to model and enable elaborate designs. Some shaving bowls are also designed as scuttle mugs. At the end of the day the type depends on these materials, the design applied, and the maker.  
Q: How do I use a shaving bowl?
A: As mentioned, a shaving bowl should enable you make the perfect lather. There is a particular way to go about this.
You should start by cleaning the shaving bowl and filling it with hot or warm water halfway. Next, take the shaving cream or soap and soften it up. Proceed to swirl it up inside the bowl and do this repeatedly and gently until lather forms – the time taken to form the lather varies depending on the type of soap or shaving cream you use, so avoid being rough or else the lather will be spoilt and your shaving experience will be ruined. In case you are pressed for time use your shaving brush to lather it up as it is more effective thanks to the bristles.