We are living in an era of gadgets, and you are probably aware of the increasing popularity of smartwatches. The features that these units offer amaze you, but they do not seem like your style. After all, you do not want it to look like you are wearing a smartphone around your wrist, and you certainly don't want it beeping all the time.
Do you know what a hybrid smartwatch is? As the name suggests, it is a mixture of traditional and modern. It packs analog hands and traditional design for telling time with extra features like smartphone notifications, activity tracking, and others. We suggest checking out our best hybrid smartwatches because these may be the perfect gadgets for you. And to make sure you found the ideal model, check out our short buying guide that will explain how to choose a hybrid smartwatch.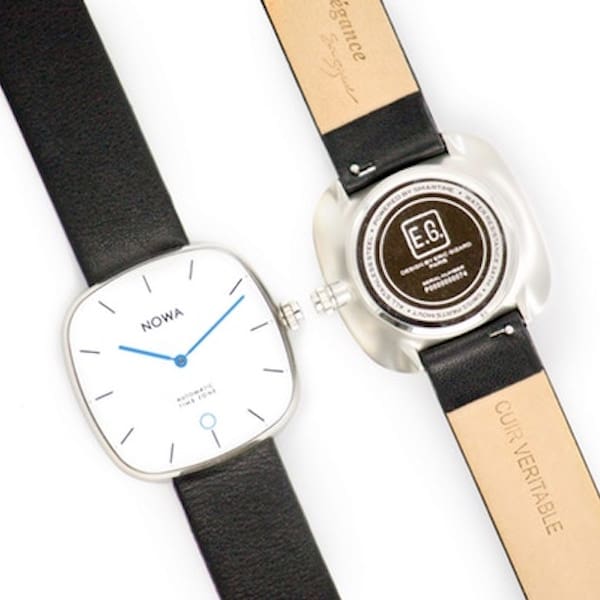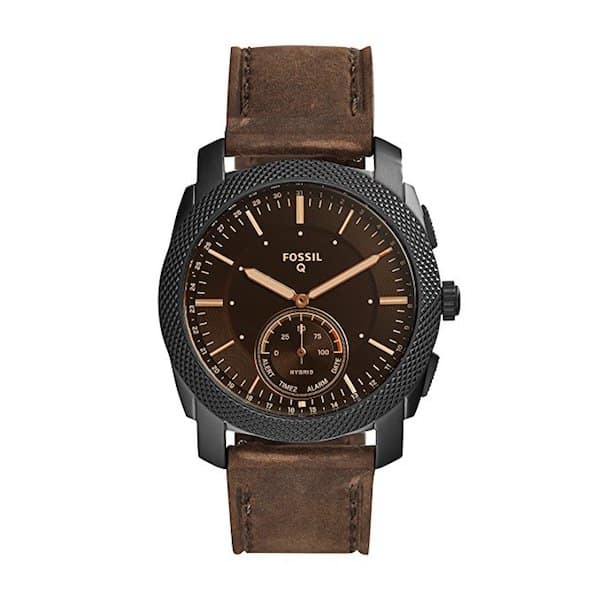 Fossil Q Men's Machine Stainless Steel Hybrid Smartwatch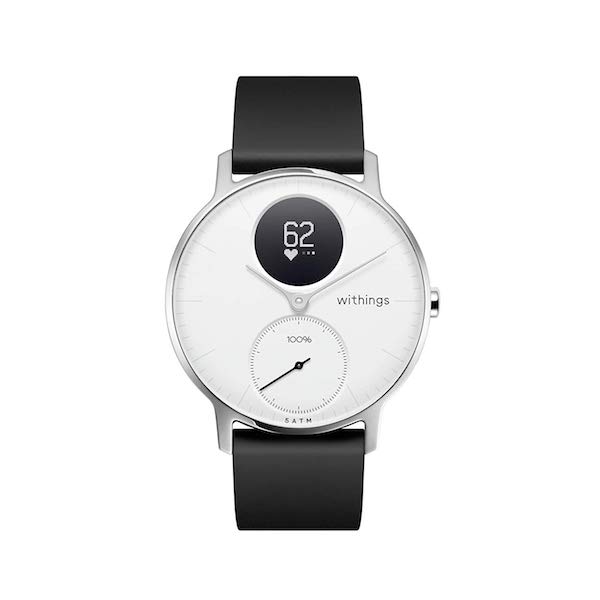 Withings / Nokia | Steel HR Hybrid Smartwatch
The Best Hybrid Smartwatches
      1. Our Pick: NOWA Superbe Smartwatch
1. Our Pick: NOWA Superbe Smartwatch
DETAILS
You know a product has potential when the public supports it. Considering that NOWA Superbe had plenty of success with crowdfunding on Kickstarter, it is only natural to expect a great watch. The manufacturer is a French studio that tried to combine modern and traditional. The design of the item reminds of classic models, but the features are all modern.
The watch has a durable case made of stainless steel, as well as flat mineral glass with sapphire coating. The bezel is highly-polished while the strap is made of mesh steel and Italian leather. It is vital to note that the strap is interchangeable.
The product doesn't require any charging, and the battery can last up to two years. When it comes to smartwatch features, you can expect the activity monitor and sleep tracking. It allows you to place daily goals for the number of steps you want to make, as well as check out data history. We do have a feeling fitness tracking could be more advanced, but it is something to look forward to in future versions
The unit will automatically update the time zone, and you can also use it to answer or reject calls or find your smartphone. You will need to have at least Android 8 or iOS 8 for the app to be compatible.
2. Premium Pick: Fossil Q Men's Machine Stainless Steel Hybrid Smartwatch
                       2. Premium Pick: Fossil Q Men's Machine Stainless Steel Hybrid Smartwatch
DETAILS
If you are not sure what smartwatch to choose, go with a renowned brand. Fossil is a reputable manufacturer of traditional watches, but do they maintain the same quality with smartwatches?
If we are judging by this unit, the answer is yes. The design is traditional, and it offers a brown leather brand and the case made of stainless steel with the black color dominating around it. The case is 12mm thick, and the watch utilizes quartz movement.
The unit has an integrated battery that doesn't need recharging. Its estimated life is between four and six months, and the only drawback is that you should take it to a qualified expert for replacement.
The smartwatch can connect to your smartphone by utilizing Bluetooth technology. It will display alerts and notifications, and you can also control the music, adjust the date, and personal goals.
You can also use the product as an activity tracker, and preset music and other functions to particular buttons. Although the buttons are fully customizable, you can't browse through the playlist, and it seems like the watch lacks some additional "smart" functions.
3. Best Value: Withings / Nokia | Steel HR Hybrid Smartwatch
                     3. Best Value: Withings / Nokia | Steel HR Hybrid Smartwatch
DETAILS
Nokia experts recently joined the Withings team to improve the quality of already solid hybrid smartwatch. The craftsmanship seems a luxury, although the product offers an affordable price.
The durability is adequate as stainless steel is the material of choice. The band is made of silicone, and the battery is long-lasting and rechargeable. A fully charged battery can last for several weeks, but it ultimately depends on your use.
When it comes to the fitness tracker, all the expected features are there, including GPS to track your path and measure distance, and heart rate and pulse monitoring. The watch will track you around the clock, and it has more than 30 different activities for training sessions. However, step tracker could be more accurate, and it seems that the device takes a bit too long to display pulse readings.
The smartwatch also offers sleep tracking, and it will estimate the quality of your sleep based on regularity and interruptions. You can feel free to take it swimming or showering, and even snorkeling since it is water resistant up to 150 feet.
4. Garmin vívomove HR, Hybrid Smartwatch
4. Garmin vívomove HR, Hybrid Smartwatch
DETAILS
If you ask us, Garmin has made an intriguing hybrid smartwatch. First of all, you can choose between multiple color combinations, and they also offer different sizes, which increases the chances of finding a watch that will be a perfect fit.
The design is partially attractive because the diameter case is large, but the analog hands can be tricky to see when the light is not optimal. Additionally, they are not that precise, and the watch may need recalibrating occasionally.
When it comes to "smart" features, the list is quite impressive. Everything starts with the basic, such as connecting to your phone to activate notifications on the digital displays. The product also has an activity tracker available around the clock.
Thanks to the heart rate monitoring, the unit will tell you when you are under stress. That is when you should utilize the relaxation timer for some breathing exercises to reduce stress. It may seem like a small addition, but it can significantly contribute to your health.
5. Skagen Connected Men's Jorn Stainless Steel and Leather Hybrid Smartwatch
5. Skagen Connected Men's Jorn Stainless Steel and Leather Hybrid Smartwatch
DETAILS
Skagen is another reputable name in the world of hybrid smartwatches, and this is an entry-level unit suitable for those that are looking for the best of both worlds while ensuring the price is acceptable.
The watch has a classic and elegant design, which helps you look stylish on any occasion. The tan leather band is interchangeable with any other 22mm bands made by the same company. The case is made of stainless steel, and it is quite thick and durable, and the silver color fits nicely with the overall appearance.
As for the performance, the watch uses Japanese quartz movement, and its analog display is very accurate. When it comes to smartphone integration, you can connect it only to six phone apps, but even that should be enough when you are on the go.
The smartwatch will inform you by vibration when a notification arrives on your phone. However, the vibration is not that strong, and it may go unnoticed if you are busy with another activity. The product uses a built-in battery that will last for approximately months. You can swim with the unit around your wrist as it is water resistant.
6. Diesel On Time Hybrid Smartwatch
6. Diesel On Time Hybrid Smartwatch
DETAILS
Diesel entered the market of hybrid smartwatches with this model, which looks modern and stylish. You could say that the design is what we expect from this company – it is contemporary and features a large case with big analog hands.
The oversized smartwatch features a stainless-steel case and leather strap. Both the top ring and the band are black while the analog hands have a silver and white outline for an added high-tech look. But enough about design and let's talk performance.
In that area, this hybrid smartwatch offers only basic features, but they should be enough for an average user. You can assign notifications the way you want so that you are not disturbed by every small thing, and the multifunctional buttons are great for controlling music or taking photos with the camera.
The official app is suitable for both Android and iOS, and it is reliable to use. It allows you to track your steps, sleep, and even fitness objectives easily. The product uses a built-in battery that has a long life before it needs replacing.
7. DREAM SPORT Hybrid Smart Watch
7. DREAM SPORT Hybrid Smart Watch
DETAILS
DREAM SPORT designed another hybrid smartwatch that features casual design, which makes it suitable to wear every day. You can also choose between several different colors based on your taste. The feature that makes the watch stand out is self-adjustment of the analog hands. When the watch connects to the app and reads time on your phone, it will immediately synchronize the smartwatch with that time.
The LED light makes it possible to tell time at night, and the product is also water resistant, which means you don't have to take it off when showering or washing hands.
The biggest problem of this smartwatch is that it doesn't inform you when you receive calls or messages. While some users may appreciate this as it means nobody will alarm them when exercising, it is still a pretty basic feature missing from this unit.
Despite that, the product seems to offer a good deal for the price. You get a hybrid smartwatch of limited durability but packed with some neat features.
8. Michael Kors Men's Rose Goldtone Strap Gage Hybrid Watch
8. Michael Kors Men's Rose Goldtone Strap Gage Hybrid Watch
DETAILS
We are finishing our list with a designer smartwatch made by Michael Kors. As soon as you take a look at this watch, it becomes obvious a professional designed it. It is a round unit with a black band and dial, and a gold-tone strap for added elegance.
As the manufacturer indicates, this is primarily an analog watch. It has a durable case made of stainless steel and leather calfskin band. The product will automatically update time, and it also supports multiple time zones.
When it comes to smart features, it has everything you may expect, including activity and sleep tracking, playing music, and even taking photos. You can also set alarms as reminders, and receive notifications for up to six selected people. The three buttons on the side are used for navigation and are extremely useful.
Overall, the product is reliable and durable. It doesn't require any charging and the batteries will last for months. You can change them yourself as the company provides all the necessary tools, but make sure to be careful in the process.
How to Choose the Best Hybrid Smartwatches
Are you eager to know how to find the perfect hybrid smartwatch out there? Here is an in-depth look at the factors to consider during the buying process.
"Smart" Features
It comes as a given that your watch will offer some high-tech perks, but it is up to you to choose how advanced you want them. The basic models mostly have smartphone notifications, activity, and sleep tracking. However, you can also ask for some extras like controlling music, taking photos, and even monitoring heart rate and stress levels.
Battery Type and Life
We believe this is a vital thing to consider as it significantly affects your watch's performance. The first option is an integrated battery that doesn't require charging. These typically last for about six months, and you can either replace them yourself or take them to a qualified specialist.
The other alternative is a rechargeable battery. These will last anywhere from a couple of days to several weeks depending on your use, and you will need to monitor battery life to ensure that your watch doesn't die in the middle of an activity.
Other Factors to Consider
Please take a look at the list below as we mentioned some other things worth considering when buying a smartwatch:
Material

– a case made of stainless steel and leather band is the most frequent combination that secures optimal durability, but you are welcome to choose based on your preference.

Water resistance

– it is vital if you want to go swimming, or you do not want to take off your watch when showering.

Design

– since you will be wearing it all the time, it is only natural that you should like the product.
Frequently Asked Questions
Q: Are hybrid smartwatches compatible with Android and iOS?
A: The majority of manufacturers make sure to design an app that you can run on both Android and iOS operating systems. However, always read the product description to make sure that is the case.
Q: Is a hybrid smartwatch better than a fitness tracker?
A: Ultimately, this depends on your choice and preference. However, if you are looking for an optimal mix of classic watch design and modern features, a hybrid smartwatch can deliver that.
Final Conclusion
The article offered a selection of the best hybrid smartwatches money can currently buy. We tried to cover different tastes and preferences, and we hope that you will easily find the desired model to combine the classic watch design with high-tech features!